I originally posted this over in the podcast group blog. I rather like having everything I write in one spot, so now I'm reposting it here. I picked two shows to talk about out of the assload that I'm currently watching.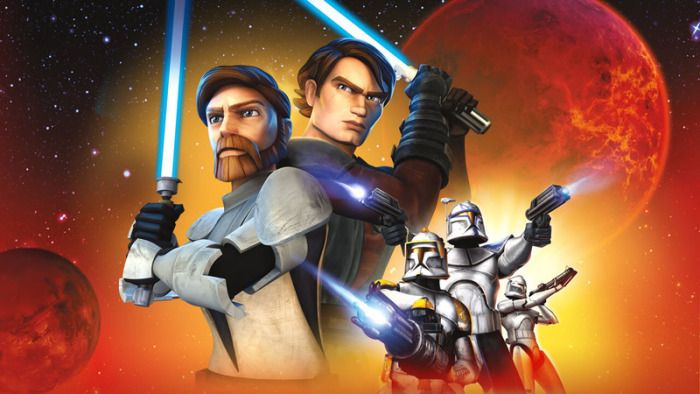 Non-anime: Star Wars: The Clone Wars
Thanks to The Force Awakens and the damn Galaxy of Heroes mobile game that I got hooked into, I've grown interested in the only bit of modern Star Wars that I haven't watched. These are actually two different series – one is a 2003 show animated in a more traditional style while the other is a 2008 CGI spectacle. The 2003 version was helmed by Genndy Tartakovsky, he of Samurai Jack fame, and it's just as excellent as his previous work. It's a largely wordless action show which reduces a massive interstellar civil war into a series of intense duels across different planets. In style it's basically a samurai epic in space, which should be unsurprising considering what Samurai Jack was like. Both Samurai Jack and the anime Katanagatari felt very similar to me, probably because they both take a lot of their cues from the chanbara genre (i.e., samurai movies). So I must recommend the Tartakovsky Clone Wars as an action and a samurai fan. Plus it changes General Grievous from the ridiculous robot with emphysema that he was in Revenge of the Sith and turns him into a genuinely terrifying enemy.
The 2008 Clone Wars changes things up quite a bit. It explores a lot more of the titular conflict, but in style it's much more of a kids' show. General Grievous has become a cartoonish bad guy who keeps getting beaten by the heroes every week like the villain from an 80's Saturday morning show. At points I half expected him to shout "I'll get you next time, Gadget!" like Dr. Claw at the end of every episode of Inspector Gadget. This isn't a criticism, just an observation, as I realize that this iteration has a different target audience than the previous one (being on Cartoon Network I assume the Tartakovsky show was aimed at hipster animation aficionados).
Anakin Skywalker's apprentice Ahsoka is the spunky Young Adult heroine one would expect from this sort of bildungsroman, and while I've only just finished the first season I expect the rest of the show to build up to her becoming a full-fledged Jedi. But even as a kids' show this series can get pretty dark and depicts actual characters dying, which I appreciate in that it doesn't try to keep kids in a metaphorical hamster ball separated from the real world consequences of violence and conflict. Though there's really quite a lot of fighting in this show. I mean, do people in Star Wars ever just watch Netflix and chill? I know what regular people on Star Trek do to relax, but I have very little idea what it's like to not be a general or a mystic space knight on Star Wars.
Still, an interesting thing to ponder is that for most 21st century kids, this is their Star Wars. It's not the original trilogy, it's not even the prequels, it's this CGI show that'll be the first thing that comes to mind when the words "Star Wars" come up. It's at least a lot better than the prequels, and it's a pleasantly entertaining show to relax with, so I'm going to stick with my Star Wars viewing project. Possibly I'll move on to Rebels once I finish.
Anime: Schwarzesmarken
This is just an enjoyably dumb show to bitch about if you're into giant robots and military porn, which I am. I also have a fascination with both alternate history and the Warsaw Pact countries during the Cold War. The show is stupid but in a creatively-nourishing way – whenever I'm watching I'm either imagining German pop music playing in the background or mentally composing a rant about how remarkably off-base its understanding of history and international politics is. That's when I'm not criticizing it for its right-wing politics and historical revisionism. God, this anime is shit. But I can't stop watching it.