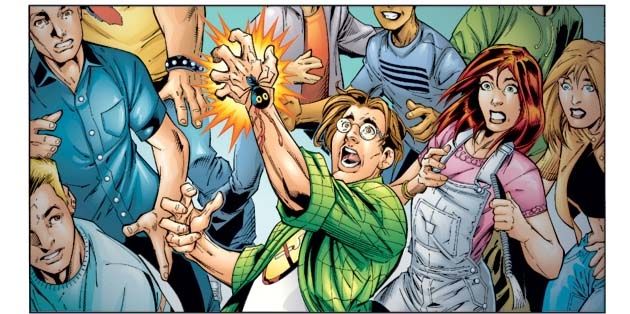 From Slog:
I do drug research for a biotech company. One day, when I was taking blood samples from some rats that had been dosed with a radiolabeled (Indium 111) MS drug, the little son of a bitch bit me (not that I really blame her, we fuck them up pretty good). So, I am proud to say that I have been bitten by a radioactive rat.

I have as of yet developed no superpowers. If I do, I will let you know.
The classic superhero origin is a story of blind luck: the protagonist – still mortal, still mundane – stumbles upon a mysterious MacGuffin that transforms him (and it's mostly "him") into a protector of conventional morality.1 Perhaps he finds a dying alien who grants him a weapon of unimaginable power. Perhaps he discovers he was always different and that he has powers beyond the abilities of mortal men. Perhaps he is bitten by a radioactive spider and has gained the consequent abilities of arachnids. Whatever the specifics, in most superhero origins, the hero merely has his powers handed to him.
If you think about it, it's a paradoxical idea. Are not superhero comics one of the most quintessentially American of media? Is not the pursuit of the American Dream a vital part of the American cultural narrative? Does not the very idea of reward without sacrifice go against the dour Protestant work ethic that informs American society?
And yet there exists the superhero.