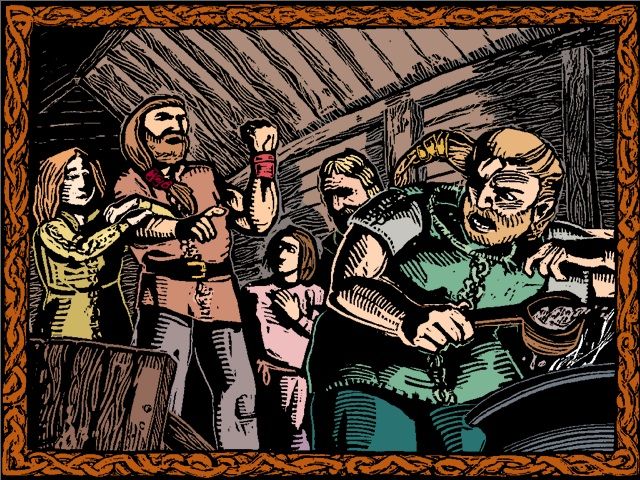 I've recently gotten into the computer game King of Dragon Pass. You play as the chieftain of a clan of Iron Age barbarians. It's set in a fantasy universe with dragons and whatnot but it's still very well-researched with regard to the attitudes and material life of your people. The broad mishmash of Celts/Gauls/Saxons/Norse that the game is drawing inspiration from feels realistic. Wealth is measured in cattle and you must continually propitiate the gods for political legitimacy. Also you can do stuff like take out a lawsuit on a ghost haunting a house.
The game society's gendered division of power is not so overwhelmingly patriarchal but it doesn't feel like a sop to political correctness. The way it's presented in the game feels perfectly plausible and shows that the developers studied their history and/or anthropology. Using female slaves as currency like the Irish did would have been kind of interesting, though – "You want misogyny? Have some goddamn misogyny you unwashed neckbeards!" I imagine the developers shouting.
It's a very unique take and practically a game in its own genre. How does one classify this? A strategy roleplaying fantasy game, perhaps? There are no real time elements and when you're not picking what crops to plant then you're just clicking on choices in dialogue trees. But the roleplaying narrative the game creates for you is so involving that you feel the need to keep going just to see how your clan will fare.
Still, despite my enjoyment, lately I've plateaued on the game. I'll be back and at it soon enough, though. There are trolls out there that need slaughtering, and who else is going to do it?