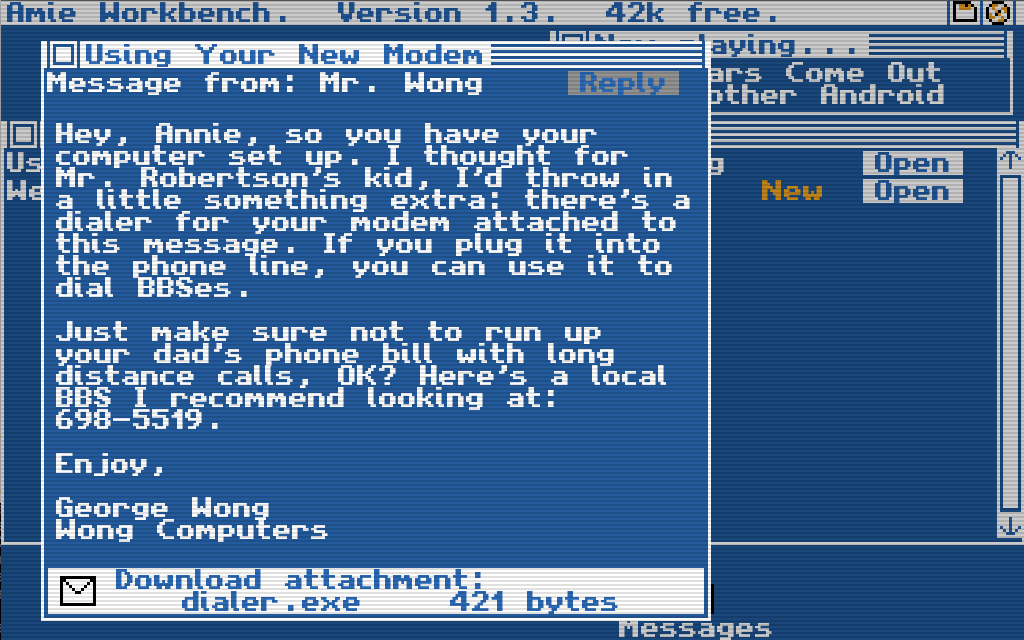 I just finished Christine Love's game Digital: A Love Story and now I just want to proclaim my enjoyment for that particular visual novel. The game and its interface are set up to look like a computer system from 1988, which initially made me think it was a hacking simulator like Uplink. However, the game itself is quite small and, mechanically speaking, is not much more complicated than a Choose Your Own Adventure book. Savvy players could probably beat the game over one weekend. It's essentially a game of clicking a succession of different buttons on the screen.
Like the Choose Your Own Adventure books, the appeal of this game is not in the gameplay but in revelling in the aesthetic presentation. I never thought I'd feel nostalgic for the whine and screech of a modem connecting to another system, yet here I am in the 21st century deliberately seeking out such a thing. This is a cute little game that could and I'm glad Christine Love was seemingly able to follow it up with commercially-successful titles.
I'm certainly looking forward to playing more of Love's work. You can even see for yourself if her stuff is for you without incurring even the most minimal financial cost – the game is free to download from Love's website. If anything I wrote here even mildly piqued your curiosity then go right ahead and try the game out. I think you'll like it.